CyAN is delighted to announce our new board for 2023-2024!
This new board possesses a genuinely exceptional depth of knowledge, experience, and talent. Geographically, they are spread out across the key regions CyAN is active in and will continue to help grow these regions alongside others.
Importantly, this is CyAN's largest and most diverse board since our foundation, representing a remarkable opportunity to continue to shape our network and industry positively!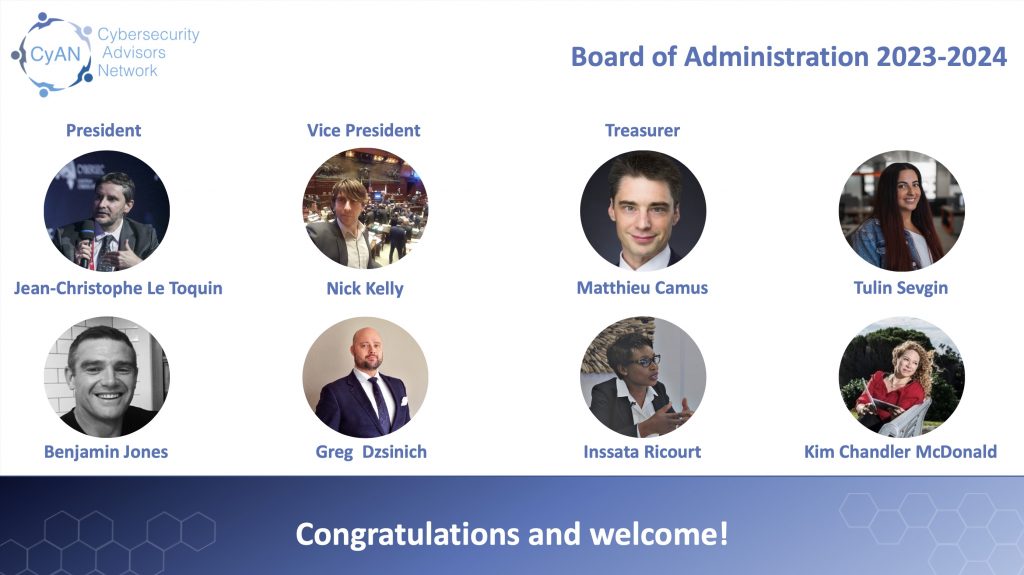 This new board saw four new members elected, with Sydney-based Tulin Sevgin and Benjamin Jones joining Kim Chandler McDonald as the APAC representatives who will continue to help grow this region.
Representing France alongside President Jean-Christophe Le Toquin are newcomers Inssata Ricourt and Matthieu Camus, who has also taken on the role of Treasurer.
Re-elected to the board for another two years are:
CyAN President – Jean-Christophe Le Toquin (French)
Vice President – Nick Kelly (Australian based in Italy)
Dr Gergely (Greg) Dzsinich (Hungarian)
Kim Chandler McDonald (Australian)
M. Le Toquin welcomed the new board whilst reflecting on his journey with CyAN since its foundation "…I believe this new board will be the best in the history of CyAN, and the network will have reached a size and maturity that will make me better suited for other roles."
Newly appointed Vice President Mr Kelly concurred and added, "Wonderful words from an inspirational colleague…"
Dr Dzsinich thanked the CyAN community for their continued trust, saying "I simply say thank you and think of how lucky I am bearing the trust of our above 120 colleagues covering 20 countries for the 4th time in the board."
Ms Sevgin captured the energy of the newly formed board when she stated, "So excited and proud to be working together with some very talented and intelligent people from the cybersecurity industry globally on the CyAN board."
Adding to this, Mr Jones expressed excitement for the work CyAN has done and that lays ahead "Really proud to have been elected to the Board of this prestigious international organisation doing incredible work in encryption, mental health for Cyber professionals and collaborating with agencies from around the world to create meaningful policy that affects change."
Finally, the new board also sincerely thanked former International Vice President Peter Coroneos and Treasurer Hein Dries who stepped down to pursue other projects. Their work up until now was instrumental in helping CyAN grow and survive as an international trust network through the pandemic.
Congratulations again to the new board! We look forward to their guidance and everything they will achieve.